SEAT
Seat Recliners and Adjusters

[Functional seat components]
Able to find the perfect positioning
for every driver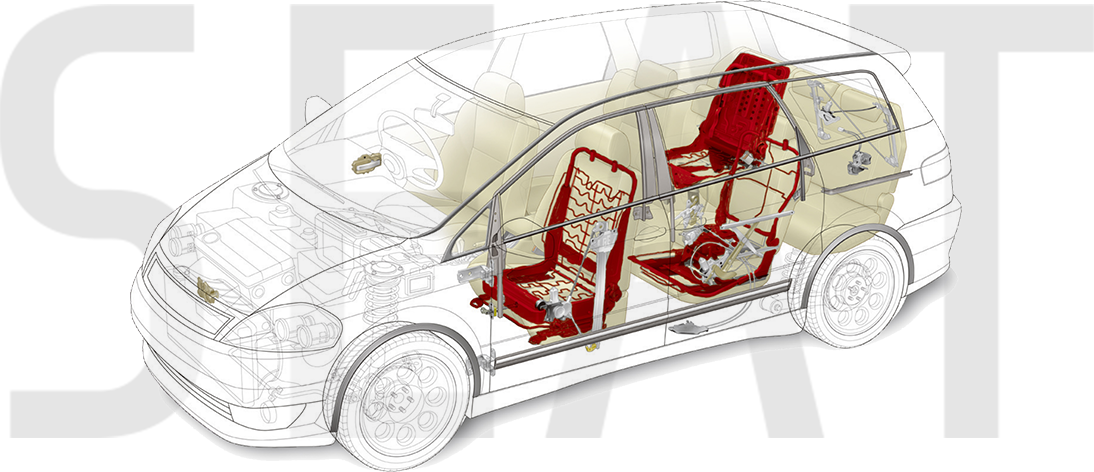 Making vehicles as comfortable as possible
Shiroki's seat components are essential for the protection and comfort of drivers as well as passengers. All parts are engineered for safety in the event of a collision. We are always searching for new ideas to meet a diverse array of needs with emphasis on further improvements in safety and comfort.
Parts List
Manual recliner

Small recliner with reduced looseness by wedge structure.

Power recliner

High rigidity recliner with quick response by composite wedge structure.

Manual lifter break

Highly strong break which continuous adjustment is possible with roller clutch structure.

Ottoman

Compact ottoman which angle and projection are adjustable with pantograph structure.

※Move the cursor over each box to see how Shiroki components move automobile seats

Power seat adjuster

Light and silent 8-way seat frame with optimum layout.

Power seat actuator

Light and silent actuator with small motor and bearing.

Cushion length adjusting mechanism

Femur supporting mechanism which improved comfort with adjustable seat surface length.

Long sliding rail

Highly strong long slide with large range of motion by bearing structure.

Sideway sliding rail

High rigidity, sideway sliding structure for rear sheets with highly strong rail.

Power slide rail

Silent, high rigidity rail with screw fixing structure.

Manual slide rail

Simple, high rigidity rail with built-in locking mechanism.
Front Sheet Arrange
Move the cursor over each box to see how Shiroki components move automobile seats
Recliner

Sheet slide

Vertical

Lifter

Walk-in

Lumber support

Head restraints
Rear Sheet Arrange
Move the cursor over each box to see how Shiroki components move automobile seats
Tumble

Tilt down

Double folding

Tip up

Rear floor accommodating seat

Junior sheet